Founders, want to unlock your Polkadot startup's full potential?
Join the acceleration program empowering you with go-to-market support, a growth hacking playbook, and a team that's raised $130M across 30 teams!
Got questions? Take the first step by booking a call with our friendly investment team below. We exist to help you win.
Here is What You Need For Success...
5 month fully remote accelerator program
Operational, legal, commercial, and co-marketing support
Token Engineering support and rapid iterative business model testing to pinpoint your product-market fit
Optional repayable loan for legal costs up to $30,000
Up to $250,000 funding available per team as follow on funding
A huge mentor and active investor network featuring proven known names in Polkadot and Web3 such as Simon Schwerin, Sota Watanabe, Bette Chen, Makoto Takemiya, Yaoqi Jia, Bruno Skvorc, and much more!
Why We are Funding Open Metaverse Builders on Polkadot
Polkadot is a network protocol that allows arbitrary data instead of just tokens to be transferred across blockchains. This means Polkadot is a true multi-chain application environment where things like cross-chain registries and cross-chain computation are now possible.
Polkadot can transfer this data across public, open, permissionless blockchains as well as private, permissioned blockchains. This makes it possible to build applications that get permissioned data from a private blockchain and use it on a public blockchain.
For instance, a school's private, permissioned academic records chain could send a proof to a degree verification smart contract on a public chain. This is just one of the myriads of possible use cases that Polkadot allows us to explore. The time to build is now.
Robin Nordnes, Outlier Ventures technology analyst observed that the Polkadot ecosystem is showing a 96.16% increase in developers that commit at least 1 line of code per month over last year! If you want to experience the network effects of having the first-mover advantage in the $27 billion Polkadot economy, you must build and scale your idea fast! Our program is designed to help you do just that.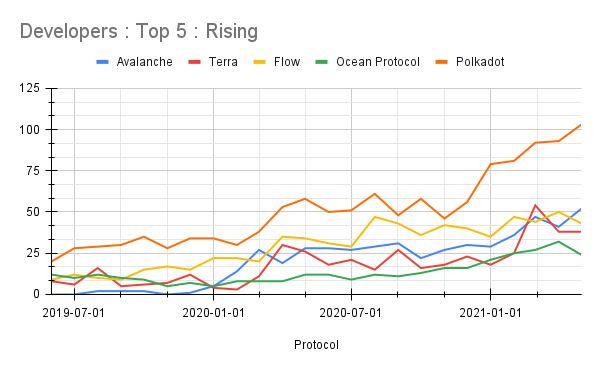 How Base Camp works
Process
Focus is everything when you are early stage. Fumbling around on non-critical issues when you have a burn rate is a death sentence. When you implement our proven process for launching, scaling, and tuning over 70+ Web 3 and crypto projects you get traction. Period. Our mentors give you tailored guidance for what your objectives should be at this moment. We have a firm, but pragmatic approach that brings your team that vital structure and efficiency your project needs to survive and thrive.
People
We have a team of 40+ crypto native people across token economics, investment, product, securities, and venture building. Consider all the value of having access to in-house researchers, token engineers, and international legal expertise, and not to mention the proven Web 3 founder leadership and mentor experience and it's impossible to find comparable Web3 programs. We have an enormous co-investor network of over 1k+ co-investors from VC to syndicates and pools in North America, Europe, and Asia. We are constantly forming relationships with investors and founders since our founding in 2014.
Partners
We have built something far beyond what a typical network of partners is able to provide. We like to think of it as a Web 3 or crypto founder ecosystem that gives early founders cross-chain and cross-domain expertise and support in a number of key areas across the globe. We not only help you develop your product but we help you forge powerful long-term relationships. Strategic partnerships emerge from networking opportunities with both past and future cohorts as the value of our program will compound over time.
CORE TERMS
We keep it really simple, we provide $50,000 of immediate funding in exchange for 6% of your company and/or 6% of future token supply.
Applications are now open until August 26th 2021
WE OFFER
$50,000 immediate investment

Up to $250,000 in total funding

Repayable advance to help cover your initial legal costs (for entity set-up and fundraising) up to a maximum of $30k

Product, token design, fundraising, marketing, research, and analytics support
IN RETURN FOR
6% equity and/or 6% future token supply
Option to invest at a discount during the next funding round
Repayment of loans once the fundraising round is closed and paid out of fundraising proceeds
FAQs
Where will the Base Camp program be run?
The Base Camp Accelerator is currently planned to be a fully remote and virtual program. There may be the opportunity for in-person summits in London or other European locations once the pandemic situation improves.
Do you work with teams from Latin America, Africa, Asia and Australia?
We are now fully virtual and working with global teams including teams from every continent. We have so far invested in companies from Australia, Brazil, USA, Canada, Philippines, Nigeria, Germany, Sweden, Finland, Poland, UK, Switzerland.
Are you running Base Camp in North America?
We are now fully virtual and working with global teams including North American teams.
What type of ideas are you looking for?
We are focused on building out our vision of what is necessary for Web 3.0 to be successful - the Open Metaverse thesis. We are already supporting projects across the stack but there are few areas that are currently underserved: learning, storage, networking, middleware, and user experience. We are interested to see applicants from all areas of the stack but will prioritize those focused on underserved components.
Open Metaverse thesis: https://outlierventures.io/research/the-open-metaverse-os/
Tell me about founders that work well with you?
We are looking for driven, humble, empathetic, and passionate founders who want to build a more equitable data economy. You will likely be a small team with both technical and business expertise. You may have raised a small amount of money before, and are looking for your next step to accelerate your proposition, and get it in front of customers and the wider industry.
Why is Outlier Ventures the right early stage investor?
Outlier Ventures is a venture platform designed to support decentralised projects to design, build, and scale at every stage of their development.
We provide early-stage funding, as well as providing support via relationships, introductions, and access to specialists from across the venture platform. We have incubated and supported leading Web 3.0 teams, and can bring a powerhouse of support to ventures building Web 3.0 infrastructure.
How long will the program run for?
The core program will be 12 weeks long, running from September 20th to December 6th, 2021.
What will the program consist of?
This is a foundational product development accelerator for decentralised technology startups. We help you establish momentum and gain traction by learning and applying the foundational technology concepts leveraging Web 3.0. We will organize educational group sessions and schedule 1-2-1 tailored meetings with our niche experts and expansive mentor network to support you across all dimensions of early-stage company formation. We help with your business strategy, token design and tokenomics, legal framework, technical support, branding and position, community building, marketing, and communication, as well as help you with that vital initial fundraising, establishing strategic partnerships, and building your foundational support network.
What happens after the end of the program?
The aim of the Base Camp program is to set founding teams up for long term success. We aim to leave you with clarity on your mission, momentum in achieving it, and being ready to close a significant fundraising round.
Venture Partners
Arwen Smit,
Lead Blockchain Strategist
Gabby Dizon
Chairman and Co-Founder
Erica Stanford
Founder
Leandro Bellone
Co-Founder
Robness Cumba
Crypto Artist
NFTs
Ryan Gill
Co-Founder and CEO, Crucible Network
Sebastien Borget
Sandbox & Blockchain Gaming Alliance
Tamar Menteshashvili
Solana
Tushar Aggarwal
Persistance
Daniele Sileri
Co-Founder